We know very well that this whole world is suffering through an extraordinary heatwave. That's why when you plan camping in summer first thing in your mind is the problem of an exceptional heatwave. Due to This hot situation, you may face inconvenience and your trip also can be ruined. Now I will tell you How to run AC in a tent.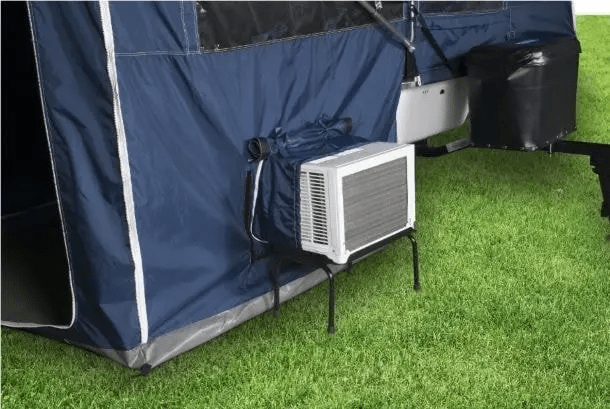 Okay, then should we stop camping in summer. No this is not a solution and I think it will never happen people can't stop it at all. No doubt the world has changed by nature, weather but on the other hand, we also have some facilities according to our needs. And some smart ideas make our life easy.
We have some tools electronics for our help but if we use them by using small tricks they can be more helpful and useful for us. In summer if we decide on camping and has an Ac in our tent. It is a must to know that how to run Ac in a tent?
Here are many tips and tricks that help you to answer your question about how to use an air conditioner for camping. This is not big thing camping under the open sky in summer.
But it is difficult to spend time without an air conditioner. So for camping, you should have a portable air conditioner. If you buy a portable conditioner you should be sure to book a site that provides you with an electrical hookup.
There you will need a generator or air conditioning unit that can work on battery power. With a portable conditioner, your camping will be more comfortable and enjoyable. To run an air conditioner tent size matters so before buying a portable conditioner you should know how big your tent is and how much large the air conditioner needs here.
A small unit that operates a battery is best when you traveling by yourself just but if family traveling with you then a large floor unit requiring floor ventilation is the best option.
To take an air conditioner for camping is the next adventure for you so you should keep in mind that a lighter conditioner is easier to transport from one place to another. There are some important points discussed below to run ac in a tent more effectively.
5 Tips How to run AC in a tent.
Ways to Use Air Conditioner in a tent Efficiently.
The temperature should be stable in the tent.
Use carefully when it needs.
Don't set Auto Mode.
Set Dehumidifying Mode.
Take a perfect size.
1. The temperature should be stable in the tent.
You should choose a shady place to place your tent because under the open sky, in the afternoon your tent just works like a greenhouse and sun rays store in it due to this your tent give you heat like you are in a sauna.
So set your tent in tree shade and try to fold in the afternoon especially on those extra hot and humid days. Set your ac temperature between 18-21°C. This will help you to keep your tent comfortable and the air conditioner will work hard as well.
2. Use carefully when it needs.
When you are out of the tent or at the coolest time air conditioner should be off because it is unnecessary to use and this will increase the electricity use and on camping mostly there are generator or battery power so greenhouse use you ac will consume more energy and this can be the reason of ruins your camping.
You need to run it when you come from the user is the perfect way to ensure that you move into a coolant oasis.
3. Don't set Auto Mode.
We all understand that auto mode is friendly to us in certain conditions maybe, but on camping where you need to save electricity more than house never set an auto mode. The reason is that when your tent becomes colder than to maintain a stable temperature it will heat it back up to maintain the original temperature and as it is vise versa when the tent is hot.
4. Set Dehumidifying Mode.
Often in the summer with extra hot humidity is also a problem and it feels oppressive. So do just use cooling mode but also on Dehumidifying Mode and feel comfortable.
5. Take a perfect size.
Your tent is not like your room so they in your mind while you are in the market to buy an ac for the tent. If you buy a large one it will consume more energy and first, it is difficult to adjust in the tent so be careful about the size.
FAQs.
Most people want to know more related to this article so here we discussed some common questions and their satisfactory answers.
Is it possible to put an air conditioner in a tent?
Yes, you can put. But the most recognizable option for a tent for a window air conditioner unit, no doubt the tent is not very insulated has small space. If you use a large window unit it means to cool a large room can overwhelm a tent with extra cold air.
How you can stay cool when plan to camping in a tent?
By following tips you can easily stay cool while camping in a tent.
Pack up your tent during the hot daytime.
Set up your tent in the shade.
Just try to use a reflective sunshade.
Keep eye on the weather and remove rainfly if the weather is clear.
You should try to sleep in a Hammock.
Conclusion.
Above we mention which ac is good to use in a tent and How to run AC in a tent. Not just that we also mention above some tips by using them you can run your air conditioner more effectively and can fully enjoy your trip in summer.
We told you that how you can enjoy yourself more comfortably in a tent and how you can save power more power will save more time you can spend on camping.
There we also told you about some common questions related to this article asked many times so you can get a clue by this also. Enjoy your camping safely have a nice journey.