Traveling as a backpacker, you don't want to be burdened by a heavy tent, but the best backpack tent is small, compact, and lightweight. Every inch and ounce of gear counts when you hike.
To choose the correct ultralight tent, you need to consider not only the weight of the tent and bag but also the tent's size and interior space. Will you be carrying it on a multi-day hike or in a day pack for an overnight hunt? In this article, you will find backpacking tents that will ensure that you are well-equipped for your next backpacking trip.
There are different types of tents – from large designs for the whole family, car camping tents, and double wall tents to lightweight, portable single-person tents that fit in a small stuff sack.
Most backpacking tents focus on having minimum trail weight and the tiniest footprint possible. As the name suggests, ultralight backpacking tents are designed to take you on your adventure: they are portable and compact enough to fit in backpacks or bike panniers.
They are designed for hikers, backcountry campers, backpackers, and anyone who travels long distances and has a new camp in mind every night.
Quick Note!!! In a hurry. These are the best budget backpacking tents under $100. But which backpacking tents do my family and I prefer? I will suggest three high-quality backpack tents that are ideal for you.
Our Top Picks Tents
12 Best Backpacking Tent under 100 Top Picks Cheapest Tents.
These are the Best Budget Tents Under $100 for Backpacking or Camping.
When looking for a tent, it's essential to find the one that is perfect for you and your specific use. Too small and it will be uncomfortable, too big and it will be too heavy. The best backpack tent is one that is just the right size for you and your gear.
Here I will share the 13 Best Backpacking Tents Under $100 with all the qualities essential for low trail weight.
Tent Specifications:
-Weight: 2 lbs. 14 oz.
-Floor area: 28 square feet
-Doors: 1
-Poles: 2 aluminum
-Vestibules: None
The Lynx 1 from ALPS Mountaineering is one of the lightest tents on the market and is an excellent choice. Tipping the scales at just over two pounds, it's clear that this tent was designed with the ultralight backpacker in mind. Despite its light weight, the Lynx 1 is still a relatively spacious one-person tent, with room for a bit of gear storage. The 28-square-foot floor area is large enough for most solo hikers and their gear. It features 2 aluminum support pole structures and is a breeze to set up. It features Weatherproof clasps for excellent flexibility and security. The Polyester material opposes water and UV harm while adding one vestibule for extra room. It is a perfect traveling tent and freestanding tent…even in inclement weather. The camping trip with Alps Mountaineering Lynx Tent was a success. It's an absolute necessity to have for your next adventure. In our opinion, it is undoubtedly one of the best budget backpacking tents available! It would be our personal choice for our next ultralight backpacking trip!
Essential Features:
-Floor size: 9′ x 7′
-Doors: 1 D-shaped
-Poles: Fiberglass
The Coleman Sundome Tent is an excellent choice for those looking for a reliable and affordable tent. It's one of the most popular tents on the market. With a height of nearly 6 feet in the middle this dome tent can fit 2 individuals and their sleeping pads easily with space to move around. Coleman's patented Weather Tec keeps the interior dry in rain and winds of up to 35 mph.
The tent floor has welded corners and modified creases, making it waterproof to prevent dampness. The tent has a D-shaped doorway for simple access and an exclusive rainfly that gives ventilation while keeping the inside dry. It likewise includes an interior gear stash to keep little things within reach. The Sundome Tent from Coleman is anything but difficult to set up and take down. With a price tag of less than $60, it's one of the best-selling single-wall tents on the market!
Read More: Best Camping Tents Under 200
The Trekker Tent 2 is a light, packable, and easy-to-set up tent that is perfect for any outdoor adventure. It has a roomy interior with a triangle shape giving you ample space for two people with a little extra. A lot of thought went into the design of this tent with two doors for easy entry and exit as well as mesh windows for ventilation. The flysheet can be used as an awning or for storage. It also comes with a carry bag and tent stakes.
The Trekker Tent 2 comes complete with plenty of space to store all your gear so it's ready for anything that might come your way. It's perfect for camping, hiking, fishing trips, and more. At just under 3 pounds, it is one of our favorite budget backpacking tents under $100, the Trekker Tent 2 from River Country Products is an excellent choice for anyone looking for a light, packable, and easy-to-set up tent.
Although it's a little on the costly side, this bivy tent is great for individuals who need a sturdy yet lighter tent. These bivvy tents are made with waterproof and breathable fabric material. The mesh windows allow for proper ventilation while keeping insects out. The Winterial Single Person Bivy Tent is light enough to take anywhere at just 3 pounds…one of the lightest tent we have reviewed! It's perfect for hiking and longer-distance trips. A three-season tent for the cheapest price. Best 1-person backpacking tent under $100.
It's great for a warm summer night or cool autumn evenings on the trail.
Don't be misled…it is ONLY comfortable for 1 person. This is a smaller tent, but the perfect size and backpacking tent weight.
The Featherstone 2-Person Backpacking Tent is one of the best budget backpacking tents you will find! It's perfect for those who need a little extra space while still being able to pack it up and take it with them on their adventures. This free-standing tent has plenty of room inside with two doors and two vestibules. The waterproof canopy can be removed to keep the packed weight down if there is no rain in sight. Featherstone uses a nice mix of light weight and strong materials that offer a Lifetime Tent fabric guarantee and from a U.S. organization that cares. Although at 4lbs its a little heavier than others on our list, it does include a footprint. Best 2 person backpacking tent under 100 and 2 person camping tent is also used for car camping….even thought it really is a great backpacking tent! The tent additionally incorporates Aluminum pole tent stakes. A Reflective Guy Line Rope, and a Waterproof. The footprint for added security or the ultralight tent setup. Using a trekking pole is also helpful.
Read More: How much should a backpacking tent weigh
Pop-up tents are great for those who don't want to spend much time setting up their tent. The Moon Lence Instant Pop Up Tent is perfect for families or groups who need a little extra space. It has two rooms with a divider in between so you can have some privacy. This tent also has a rain fly but is on the heavier side at 10 lbs….making it more suitable to car camping than hauling up on a longer hike. But for a family situation, it could be used for backpacking, since the size will fit 4-5 people with plenty of room for gear storage…this is a good budget backpacking tent for families.
Breeze's Easy Setup Beach Tent is one of the best budget camping tents you will find. It's perfect for those who need a little extra space while still being able to pack it up and take it with them on their adventures. This free-standing tent has plenty of room inside with two doors and two vestibules. The waterproof canopy provides UPF 50+ sun insurance and enormous windows for ventilation. The interior space is spacious and features lightweight and robust fiberglass tent poles.
The Yosemite backpacking tent is accessible in both 1-Person and 2-Person forms. This is a 3-season tent and is perfect for those wetter, colder conditions you may encounter while mountaineering or climbing. As a free-standing tent, it can be set up on any kind of landscape. The double-walled cover keeps moisture out in case of rain, and the zippered fly makes interior access easy. The PU 5000 bathtub floor and tent footprint also keep water from seeping in the bottom. It is intended to be a traditional tent for everybody to appreciate exploring, vehicle camping and other outdoor experiences.
Three-Season Backpacking Bivy Style Tent is the most reduced performance tent, and the Solitaire is an enduring top pick of hikers all over. The Solitaire is a non-detached, bivy-style tent with the additional advantage of a zippered top section for simple passage and exit.
It is perfect for solo traveling and walkabouts; the Eureka Solitaire is the lightest, most minimal three-season solo tent made by Eureka.
Likewise, it's amazingly very much ventilated with a considerable cross-section rooftop and has an incredible for stargazing during summer trips.
It has a zippered rooftop, which gives an additional exit in a decent climate.
This two-band bivy configuration offers an effective passage plan, with a strong 6.3 mm fiberglass tent pole outline that is shock-corded for quick setup.
The full inclusion fly is appended, so it tends to be moved back or set up rapidly.
Bess port backpacking tent is roomy tent enough with two d-shaped entryways and two vestibule to oblige up to two individuals.
Crease taped construction makes an invulnerable hindrance against rain and forestalls spillage.
Welded tent floor design lifts the lower part of the exploring tent to shield you from wet grounds; full-inclusion rainfly for added security against the downpour.
The Kelty Salida Camping and Backpacking Tent is a moderate, 3-season tent for two individuals. It includes a simple, free-standing plan with cross section dividers and ample storage room pockets. The fly gives full inclusion for inclement weather insurance, while the inside stays cool and ventilated with huge mesh panels. Set up is brisk and simple.
Its divider material is: 68D Polyester, 40D No-See-Um Mesh, and tent floor material is 68D Nylon, 1800 mm, makes it easy on sleeping pads. The half dome classic style, interior storage pockets, and quality Kelty name, make it a good option if you are looking for the right tent with a spacious interior.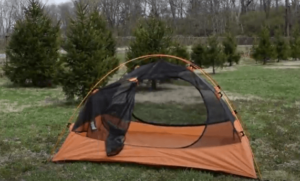 Clostnature lightweight traveling tents should be anything but difficult to raise and takedown. Detached and two Aluminum shafts plan for the light climbing tent's quick pitching and tent pole is strongest.
One individual can effectively set it up, even with no experience. This ultralight hiking tent is a smaller and versatile tent, extraordinary for Hiking, Bike packing, Kayaking, Mountaineering, Fishing, backpacking trips, or Car Camping, or taking a leisurely camping trip.
The TETON Sports Mountain Ultralight camping tent is next on our list. It is the perfect dome tent for backpacking and can sleep between one and 4 people.
Teton is completely waterproof as it has a 360-degree ventilation system that allows easy flow of optimal air and makes the tent cool which helps to provide you with a comfortable night.
The dome mesh upper side allows you to enjoy the Milky Way star viewing experience at night, along with a nice breeze, which is beneficial and feels good while sleeping. The is one of the best lightweight backpacking tents.
You can set it up in a few minutes. Whether you're backpacking, hiking, or camping, this can be useful on backpacking trips. With its micromesh construction and waterproofing, the rainfly ensures that your camping gear stays dry.
You can easily pack this tent in the stuff sack without any hassle when you are allowed to move forward. I was extremely impressed with its zippers, stakes, and shafts, with the tent material and other features. The tent can accommodate two people easily.
With this hassle-free tent, you can spend time alone in a natural setting that is far away from city lights and filled with foliage whenever you desire.
Tents like this one are easy to fold up without a lot of trouble. If you need any help or assistance, you can easily contact their support team, which provides very good service. Also used in car camping.
How to choose a tent.
When it comes to backpacking, we know that there is no such thing as a too small or too lightweight tent. But we also know that it is vital to be well prepared when you are in the wilderness. There are many factors to consider when choosing the best ultra-lightweight tent, but you need to know exactly what you are looking for. To make your search easier, we have reviewed 10 of the top-rated backpacking tents under 100.
Our Recommendation – Backpacking Tents
If you are looking for the best tents under 100, you are in the right place. We looked at all the possible options and based on our experience; we strongly recommend Coleman Sundome Tent, ALPS Mountaineering Lynx 1-Person Tent, And Winterial Single Person Personal Bivy Tent; it's one of the best ultralight tents under 100 dollars.
It's a one and two-person tent, but it's big enough to fit a person and a dog, or two people and two backpacks.
Best budget backpacking tent under 100
Factors to consider when buying a tent.
Camping is an exciting outdoor activity; although there are many people who love to do it, there is still a large number of individuals who are yet to try it. The number is, however, growing each day. Many people are still confused as to how to go about buying a tent. It is not as easy as it seems; one needs to consider several factors before making the purchase.
1. Tent Body Material.
Lighter weight, easy to carry, and still safe, these are the requirements for backpacking tents. Tents are available in different materials like nylon, polyester, silicone-coated nylon, silicone-coated polyester, etc. The material of the tent also determines the price, durability, strength, waterproofing, strength, and ease of cleaning.
2. Capacity.
The capacity of a tent refers to how many people can sleep in it at once. To decide which tent can fit your needs, you need to know how many people are going to be sleeping in the tent. If you are camping with your spouse and kids, you might want a bigger tent. If you are camping with your friends, something smaller might be better. The size of the tent you buy will also affect how easily you can set it up or how much room you have to store items.
3. Size
It is no secret that camping is one of the most effective ways to get back to nature and enjoy the peace and quiet of the outdoors. However, the experience of camping can be completely different depending on the type of tent you use.
Ultralight tents are especially popular among avid hikers and backpackers because of their small size, lightweight design, and ease of setup. Before you set out on your next backpacking adventure, it is important that you equip yourself with the best backpack tent under 100.
4. Weight.
Tent weight is an important factor for most backpackers. When you're carrying the tent on your back, every extra pound is like adding an extra 10 pounds of weight. That's a lot of extra weight to carry! Whether you're planning on backpacking the Pacific Crest Trail or just going on a weekend getaway, you want to make sure you choose a lightweight tent.
5. Setup
A tent is an important thing for every type of camping need. Every camper should have at least one tent. It is very simple to set up a tent. The first step is to locate a flat area of soil that is free of stones. You need to place the tent about six feet away from the fire. You can also place the tent near your vehicle. Most of the tents are designed to withstand extreme weather conditions. It is very simple to set up a tent. A tent is an important thing for every type of camping need.
6. Seasonality.
The reason why it is necessary to have a tent for backpacking has been one of the most frequently asked questions by beginners in this field. As a beginner, you must be wondering about the exact time to hit the mountains with a tent. After all, you want to make the best use of your money. Let us take a look at the seasonality of backpacking a tent.
7. Livability.
As backpackers, we want to be comfortable, but we also want to keep the weight down. When it comes to tent weight, livability is a big concern. Comfort is a big concern as well, but not quite as big as the weight. For this reason, I have included a variety of tents that have a decent amount of space but are still lightweight.
The Big Agnes Copper Spur tent is a good example. It has a high livability score, but a low weight score. If you are a backpacker who is concerned about weight but still wants a tent that is comfortable, this tent is a great choice for you.
8. Comfort.
Comfort is one of the most important factors that you need to look into when you are buying a backpacking tent. If you are going to be carrying it on your back, you need to make sure that you are not going to be suffering from the weight. It also needs to be spacious enough to accommodate you and your friends, or your family.
You will have to determine whether you want a backpacking tent that is freestanding or one that you need to stake down. Another important factor is the number of doors, as it can make it much easier for you to access your stuff quickly.
9. Vestibules and Other Gear Storage
When you are in the market for a new tent, you might be wondering if you should get one with a vestibule, or if you should get one without. Vestibules are sort of like an extra room on the side of your tent, which allows you to keep your gear off the floor of your main tent, and also keep you away from the heat of the sun.
This will help to keep your tent cool and reduce condensation. They are also great for having a place to put dirty or wet gear.
10. Ventilation
Ventilation is a very important feature that you need to consider when buying a tent. If you are planning to go on a camping trip in the deserts, you are going to need a tent with good ventilation to keep you cool. Some tents have built-in screens, others have windows, and some have both. Some tents have very little ventilation, so you are going to have to make your own.
11.Size
Make sure to be realistic in how much space you really want or need in your tent. If you are hiking a longer distance calculating every ounce of trail weight, then you should go for the smallest ultralight tent that you can afford. If you are doing more car camping, then you can skip the lighter tents and find something a bit larger with more interior space for people and gear. True backpacking tents are usually smaller with just enough room for 1 person and their outdoor gear.
backpacking tent?
So if a very light tent is too light for you, what is the proper weight for a backpacking tent? A well-established guideline is approximately 1.5 kg per person, which means that a tent weighing less than 2.5 kg is suitable for a tent of 2 persons.
Which tent material is best?
Not only sound education but his alertness and dedication too are most required. In contrast, choosing the right materials is almost always more important. The material directly affects the weight you have to carry as a passenger and also the tent's weather resistance. That is why modern tents are made almost exclusively of polyester and polyamide. Depending on the manufacturer, additional silicone, polyurethane, or PVC coatings are used.
But which tent material is best? Below, we'll quickly tell you which tent material suits your needs and you'll learn about the different properties of different tent materials.
Polyester or polyamide?
The most exposed material in the store is external. After all, the exterior material is directly exposed to all weather conditions. Therefore, the demands on content are similarly high. The exterior material should be waterproof, be able to withstand the sun's UV rays for a long time, and have good tear resistance. In addition, heat and cold should not be able to spoil the material. Therefore, outdoor camping and trekking tents are usually made of polyester or polyamide (nylon).
The main advantage of polyamide (nylon) is that the material production is particularly cheap and light. However, these benefits often come at the expense of some drawbacks: the material expands when wet and causes cellular tissue to sink faster. As a result, the outer tent can come in contact with the inner tent fabric and needs to be re-tensioned. Compared to polyester, UV resistance is lower and, contrary to popular belief, so is tear resistance. However, these disadvantages can be offset by the high-quality coating.
In contrast, polyester is highly torn resistant, barely sensitive to UV radiation, and absorbs very little moisture. Therefore, the tent dries more quickly and has a significant effect on the weight when the tent has to be repacked after rain. However, polyester production is quite expensive. Because of this, more and more manufacturers are choosing cheaper nylon. In addition, polyester can make a lot of noise in high winds if the tent canvas is not tight enough to pull, which can be quite unpleasant.
Gore-Tex is not recommended.
Recently, a well-known material in the garment industry, gore tax, has also been used, especially for expensive tents. This material is used because Gore-Tex is completely waterproof, but allows moisture, such as water vapor, to pass through. Therefore, an indoor tent is not needed because thickening does not thicken, but can evaporate.
This idea is good in principle, but unfortunately, it is not true: significant differences in indoor and outdoor temperatures are necessary for the transport of water vapor. It is present in clothing but is not usually found in tents. So, with the gore tax, most of the time you have a particularly expensive stalactite cave.
The inner tent is usually made of polyamide.
Making the tent as dry as possible for the indoor tent is a top priority. Therefore, the material must be permeable to water vapor and air. For this reason, nylon fabric, ie polyamide, is commonly used for this purpose. The water vapor generated in the inner tent is transported through the fabric of the inner tent and condenses in the outer tent. If the fabric of the outer tent is stained, the condensate cannot return to the dripping interior.
The floor of the inner tent is subjected to very different mechanical stresses from the rest of the fabric. In that case, make sure it's too thick, even if it means you gain extra weight. After all, there is nothing more disturbing than a broken shop floor. With proper lining, absolute waterproofing is also important here, even more, important than the outdoor tent. If you ever wake up after a rainy night in a small pond under the tent of your tent, you will know why.
Lining the tent material
Tent material coating enhances UV, tear, and weather resistance. Therefore, a lining is highly recommended, especially in the case of cheap tent tarpaulins. The cheapest variant is PAC or PVC lining. However, they are not considered suitable because of their disadvantages: the material is not very flexible and elastic. Therefore, it rapidly separates from the underlying tissue. Two alternatives, silicone and polyurethane, are profitable in the long run.
Polyurethane is very suitable for coatings, very resistant to cold, and very flexible. This material, which is used as synthetic rubber in other industries, is therefore very suitable for camping in icy conditions and with large fluctuations in temperature. In contrast, alternative silicone is said to be not cold-resistant, but better in terms of UV and tear resistance.
Caution
It is not possible to seal silicone-coated tents. However, since tent seams are one of the most prone to breakage, it is advisable to seal the seam with an additional seam sealant. Sewing thread should be cotton: In case of moisture, the stitches are sealed by swelling. Nylon yarn is cheaper and is often used with nylon tents for convenience. Unfortunately, this is not the case with cotton yarn.
Lining the tent material
Moisture protection
The waterproofness of tent skins is expressed as millimeters of the water column. According to DIN ISO 10966: 2005, a tent with a water column value of 1,500 mm is considered waterproof. However, the tent floor must be very impregnable, so that it will also be impregnable when the point is loaded. 2,000mm / 5,000mm is a common combination. The first value counts for the outdoor tent, but the second value counts for the tent floor. The values ​​of the water column up to 10,000 mm on the store floor are also not uncommon.
Fire protection
Fire protection also needs special attention. A cigarette butt falls to the shore or to the store and the kitchen next to the store and its contents catch fire in seconds. So when buying a tent, look for the label "fire escape".
Then the tent material does not ignite and in case of direct contact with the fire the tent (polyester) only melts or the tent burns at most with a very small flame (nylon, polyamide) and usually by itself. Goes out very fast. In the worst-case scenario, it gives you time to survive. You need to get out of the store on time and maybe even put out the fire.
FAQs:
What is the best backpacking tent?
The best backpacking tent is a much more important question than it might seem. It is even more important than the hiking boots, the backpack, or the sleeping bag you will need for a successful backpacking trip.
The backpacking tent is the one item that you're going to use the most. Your tent will be with you 24/7 for up to 5 days (or more if you're hiking the entire trail). That's why it's important to choose wisely.
Weatherproof
A good backpacking tent should offer you protection from the elements, it should be lightweight, it should be easy to assemble and takedown, it should be spacious enough to give you enough room to move around, and it should be easy to carry around. Keep in mind, you'll also need to decide if you need a three season or a four season tent as this will guide your search and determine ultimate trail weight.
If you're planning on backpacking solo or with one other person, you'll want to make sure that the backpacking tent you choose is two-person or three-person.
Some people decide to go with a one-person tent, but the problem is that you'll be crammed into a small, confined space….not much bigger than the size of a bathtub floor!
If you're looking for the best backpacking tent, then you're in luck. This article will help you figure out which one is best for you.
What is the best two-person backpacking tent?
If you're a backpacker who sleeps in a tent, you'll know how important a good tent is. Especially when you're in the middle of the wilderness, a good tent can make all the difference.
We've already written a blog about the best backpacking tents in general, but today we're going to look at two-person tents specifically.
In this blog, we're going to look at what you should be looking for when buying a two-person tent, and we're going to look at the top five two-person tents available on the market right now.
What is the best cheap tent?
If I had to recommend only one type of shelter for backpacking, it would be a tent. It's flexible, lightweight, more robust, has better protection from the weather, and is better for your health.
Before you go out and buy a tent, there are some things you should consider to help you find the best backpacking tent to suit your needs. Many people make the mistake of buying a tent online without looking at any reviews or without knowing what they are looking for.
This is a huge mistake, as you will likely end up buying a tent that is either too small or too big, too heavy, too flimsy, or simply not good enough for the conditions you are likely to encounter. This is why I recommend you to do your homework before your buy.
What is a good weight for all-around backpacking tents?
The Big Agnes Copper Spur HV UL 1 person tent is a cheaper option for you. It is the best tent under $100. It is lightweight, weighing just over three pounds. It is made with super-strong 30-denier tech-polyester fabric. It has a high strength-to-weight ratio.
This tent has a high wind rating of 4.5, which is great for high winds. It is waterproof to 4000mm. It has strong reflective guy lines. This tent is easy to set up. It has a strong hub-bed style pole, which is sturdy.
The inner tent has a mesh storage pocket, which allows you to easily find things. It has a two-door design, which makes it easy to enter and exit. The fly is pre-bent, which allows for easy setup. It comes with a stuff sack. It cost less than £100, which is inexpensive.
How much does a good backpacking tent cost?
Tents costing around $100-200 are going to be very flimsy and not last very long. You will find you have to dry it out every time it rains, and it won't stand up to anything more than a gentle breeze.
Most people would be better off buying a cheap $100 tent or tarp, and spending the extra on a good groundsheet (to protect against leaks and sleeping on wet ground) and decent sleeping gear. Oftentimes, an inexpensive tent is just a waste of money!
Add up the price of a sleeping bag, a tent, a groundsheet, and a tarp and it may work out cheaper than a $200 fancy tent, but you will have more room and you'll have a lot more fun. You would be better off spending a bit more and getting a reliable tent if you are serious about your backpacking gear.
Conclusion:
Planning an extended adventure, the most important thing you can take along with your ride is a hardworking backpacking tent. So if you take a lightweight backpack tent, you can enjoy much better freedom. There are many tents mentioned above, but the most comfortable is Coleman Sundome Tent.
It is designed so that you can easily carry your kit bag and camp in the most eye-catching places each area offers. It means you can easily save shelter costs, helping you plan a more extended trip. Hopefully, you enjoyed our reviews of the top backpacking tents!